The design series "floating ceramics" materializes the state of liquid to solid. In order to design the objects, an algorithm-based fluid simulation was developed and applied in the design of three-dimensional models. The surface tension of the agglomerated spheres plays an important role. As with any liquid, the increasing number of drops also changes the shape of the collecting liquid.
In the design, the state of individual drops up to the solid form is represented in five steps.
The digitally designed objects are printed from aluminium oxide using the laser jet binding process and sintered in a ceramic kiln.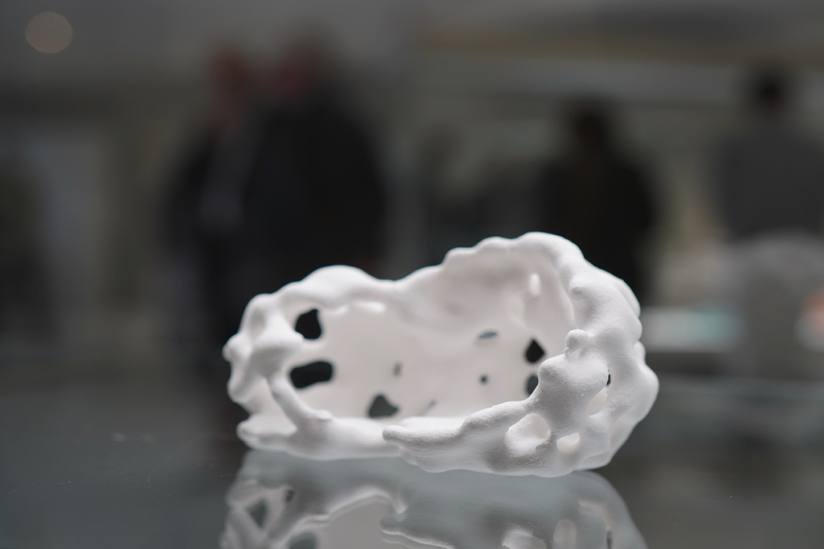 In this manufacturing process, the ceramic powder is applied layer by layer and then bonded to each other - which makes the production of the complex shapes possible in the first place.
The "floating ceramics" design was developed by Andreas Grimm and Emilie Burfeind with the support of the Institute for Material Design at the Offenbach University of Art and Design led by Prof. Dr. Markus Holzbach and WZR Ceramic Solutions GmbH.
Further works from the "floating ceramics" series are currently on display at the Keramion Ceramics Museum in Frechen.

The project was awarded with the first prize "Kunst trifft Technik" competition of WZR Ceramic Solutions and Keramion, Ceramics Museum, Frechen
EXHIBITIONS:
2022
Industriemuseum Lage
2020-2021
Porzellanikon Selb
2019-2020
Keramion, Frechen